Brainy's Share Market Toolbox
An arsenal of weapons to help you tackle the share market.


Monthly Share Market eNews email update


Technical analysis - what is it?
How can I profit?

| | |
| --- | --- |
| eNews + eBook Articles Update | #64 - August 2014 |

Dear Reader,

This

Share Market eNews email

is going to all of our subscribing

Share Market Toolbox

Members as normal, and to the non-Members who have expressed an interest in receiving it. (Any non-members who want to access the detail in the Members Area can easily

join as a Toolbox Member

- it's not expensive.)

Technical Analysis - What is it really?



In last month's eNews email we talked about studying and analysing price charts, and noted that it can be difficult to learn about technical analysis because we need to analyse a chart using our current knowledge of technical analysis, and then wait a few days or weeks before we can see if our analysis is accurate. And last month we offered some suggestions as to how to capture and record our analysis, so that it is easier for us to come back a few weeks later and review the analysis to determine it's accuracy. (If you missed that eNews, see it in the

Toolbox eNews Archive

.)

And while we go through the process of learning more about technical analysis, the following question often comes to mind: "

exactly what is technical analysis?

". You know, I used to go along to the monthly

ATAA

meetings, and learn something new, and make lots of notes, and sit back and think

"so that is a part of technical analysis?"

. And i

t took me about 4 years of attending these meetings, and reading a couple of text books, to get an almost complete picture of what technical analysis is all about. I wasn't aware of any short training course or seminar that could teach all this in just one day.

That's why I maintain my Share Market Toolbox - to help streamline and short-cut this process for other people. And that was why I put together a powerpoint slide presentation a few years ago for display by the ATAA at the annual investing/trading expo events. And I updated those slides for the Expo in Melbourne this year (a week ago), and I am now making them available in the Toolbox for Toolbox Members.

Please see all the details below.

Any non-member who no longer wants to receive this material on a monthly basis can simply unsubscribe from ALL topics using the SafeUnsubscribe link at the bottom - or just

Update Your Profile

to change your

interests

. (

BUT NOTE

: Toolbox Members and BullCharts mailing list members should not unsubscribe, as it will remove you from all my mail lists.)

Please remember, anything mentioned here, and in the referred eBook Articles, is for general education only, and is not advice of any sort.

Please read on....

About the eNews emails...

Just a short note to the recently new Toolbox Members:- These share market

eNews emails

always go to Toolbox Members (a part of the Toolbox service), and to the people who have registered to receive occasional information about the Share Market. This is a monthly email with some pointers and tips on focused topics - see a quick

intro to the eNews emails

. They often include references to specific

eBook Articles

in my

Share Market Toolbox

, as well as key web pages in the free area of the Toolbox (eg. on the extensive

Share Market web page

). I have been writing the eBook Articles since October 2008 - that's more than five years, and these eNews emails help you to navigate to related and useful information each month.




Robert is always very happy to receive feedback about the Toolbox, and the articles and weapons therein.

Please feel free to contact Robert by email or phone.

Contact Us...




---
Remember...
Price charts summarise the underlying opinions
and emotions of the market participants.
Every chart tells a story.
It pays to understand the stories in the price charts.
This month's focus:

Technical analysis - what is it really?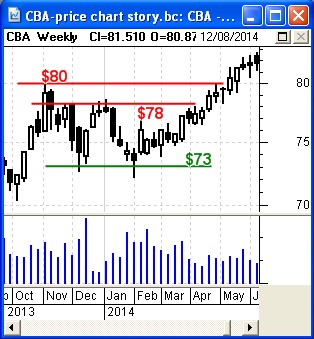 We said here in this eNews last month that many people have seen the light, and can understand that the opinions of the market participants are captured in the price charts, and that the price chart does indeed tell a story (and exemplified in the chart at right - click on it for a larger version with more details and comments, and
see the explanation here
).
For anyone who has started their journey of learning about
Technical Analysis
, they have probably discovered over time that the subject is rather broad. And it can take a while to discover all aspects. And along the way, one challenge is to work out how much we need to learn about the subject. The reality is that we only need to focus on one or two aspects of technical analysis in order to be successful. And they can be whichever aspects we find easiest to understand and relate to. But it pays to be at least aware of all the different aspects so as to make a wise choice going forward.
For those who are still in the early stage of that journey of learning, it is difficult to find good information that helps clarify the fog. And that is where this month's eNews focus comes in. The material below is aimed squarely at these people, to help them hasten their journey of learning. If you are one of them, then please make sure to look through the materials.

Here are the links and details for this month's information (including any new or updated eBook Articles):-
Regarding my growing collection of eBook (PDF) Articles, don't forget to see the latest Table of Contents pages for all articles (see links in the side-bar above right).
There are now a total of 146 Articles in this collection - a huge total of 673 pages of information! You can see the
Table of Contents for all eBook Articles here
(recently new or updated ones are highlighted), and the
Master Toolbox Index
which includes the eBook Articles, plus web page references, and helpful videos.
eBook (PDF) Articles - Summary

Since October 2008 I have accumulated quite a collection of eBook (PDF) Articles on three subject areas - Share Trading/Investing, Technical Analysis and BullCharts software (actually more than 630 pages of material in more than 138 articles). These Articles are invaluable for both new and experienced investors and traders. I write brief monthly notes in this eNews email to highlight specific Articles on targeted topics, and sometimes referring to new or updated web pages in the Toolbox (also see a history of Toolbox updates). I am also writing new Articles and updating existing ones as required. For more information please see:
Article front pages
For any new readers of my Toolbox eBook Articles, there are some useful introductory Articles including an Introduction and an Overview Article for each of the three subject areas. You can see them here:
Any problems?
What if you have some sort of problem with accessing the Toolbox and any of these Articles? Or maybe the Username and Password doesn't work. If there is any problem at all, simply contact me by email or phone. The best email address for this is:
support@robertbrain.com
. Occasionally emails disappear - the system thinks they are spam, or the ISP might think they are spam. If I don't reply within a day or so, please contact me by
either email address or phone
.
In Closing
There is nothing secret in this email, so feel free to forward it to someone if you think they might benefit from the information, or from being a Toolbox Member. The easiest way to do this is to use the "Forward Email" link at the bottom.
I am also confident that my Toolbox Members won't be sharing their username and password with non-members. It is not fair that I spend all this time preparing the materials, and then my Toolbox Members pay money to have legitimate access, only to let some people pay nothing to read and view the details.
Please feel free to email an individual Article to others as a sample; but if they want online access to all the materials, it is pretty cheap, so they should subscribe as a Toolbox Member. T
here is information about Toolbox Membership in the Quick Links section at right.
Always happy to receive feedback, or suggestions for new content or improvements.
Until next month,

happy investing or trading,

Robert B. Brain
(mobile: 0438 355 910)
ps: watch out for the sharks in the ocean!