Dear Reader,
This
Share Market Toolbox eNews Update email
is going to all of our subscribing
Share Market Toolbox
Members as normal, and to the non-Members who have expressed an interest in receiving it. (Any non-members who want to access the detail in the Members Area can easily
join as a Toolbox Member
- it's not expensive.)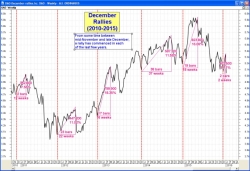 Every year at some time in December, in the lead up to the Christmas period, there tends to be a discussion about a possible Santa Rally in the weeks ahead.
But what is a Santa Rally? Does it happen every year? Or perhaps in many years? Is it likely to happen again in the next Christmas New Year period? When it occurs, how long does it last? Is it really just a 7-day window at about Christmas time? These questions and more are covered in this edition of the eNews Update.

I first posted my Santa Rally web page in the Toolbox in 2013, with some charts and observations about possible Santa Rallies - depending on your definition for a Santa Rally.
For this edition of the eNews I have written three new eBook (PDF) Articles with 14 price charts of the index over a total of 15 pages. The information is similar to the content of the Santa Rally web page, but it's in a nice printable format and with extra observations and comments.

See all the details in this edition's focus section below. And please do have a Merry Christmas and Happy New Year.
If you would like to see a history of the Toolbox changes, see the special content update blog, and you can select the option there to "Follow" that blog to get details about new updates as soon as they are made.
Any non-member who no longer wants to receive this material on a monthly basis can simply unsubscribe from ALL topics using the SafeUnsubscribe link at the bottom - or just
Update Your Profile
to change your
interests
.
BUT NOTE
: Toolbox Members and BullCharts mailing list members should not unsubscribe, as it will remove you from all my mail lists and you will no longer get any emails.
Please remember, anything mentioned here, and in the referred eBook Articles, or web pages, is for general education only, and is not advice of any sort.
Please read on...