Dear Reader,
Welcome to the 12th edition of my (fortnightly) BullCharts software Tip Sheets, focussing on tips and hints regarding the Australian BullCharts charting software package.

I am always happy to receive feedback and suggestions for these Tip Sheets. Or if anything in a Tip Sheet is not clear, please feel free to contact me to ask about it (by email or phone).

Please note the new Hands-on Trading Workshop that I am running over the next 2 weeks - details in the side bar on the right. A fantastic opportunity to try safe CFD trading on an overseas market in the early evening - and it's not your money. It promises to be a fantastic event. At the time of writing there are only a couple of seats left. So you need to be quick.

---

In the first article below I have some special news about my monthly eNewsletter articles that have been running now since October 2008. The news includes special reduced pricing.

---

Also, in this Tip Sheet below I focus on the BullCharts "Workspace" - what is it? how to manage it? and the new Workspace Manager now included in BullCharts version 3.8.x.

It can be very handy to understand the concept of a BullCharts Workspace, and how it works. It can save you a lot of time in your routine analysis and review of price charts.

But because these Tip Sheets are intended to be short quick snippets of information, there is a lot of detail that I can't include here. But the good news is that there will be a lot more about Workspaces in the April edition of my monthly eNewsletters. If you subscribe now, you will have the April edition for free, as well as the next few months editions (see the links below and at right).

---

The March edition of my monthly e-Newsletter was released a couple of weeks ago. It includes information on the various toolbars, and stock codes, as well as two indicators - OBV and Bollinger Bands. Last month I covered IntelliCharts, amongst other things. Have a quick look at the recent Preview versions:- You can click here for more details about Brainy's Monthly eNewsletter articles (on Technical Analysis, Share Trading and BullCharts), and to view all the articles in the first one, or a preview of each month's articles.

Please feel free to send me feedback, or requests for additional topics for these Tip Sheets or the monthly eNewsletter articles.

Good luck with your trading.

Robert ("Brainy") Brain
(Contact details below.)
---

Topics in this Tip Sheet edition:

Hands-on Trading Workshop

Monthly eNewsletters

Workspace - what is it?

Workspace - how to manage it?

Workspace Manager (3.8.x)

More information

This TipSheet might look strange?
Monthly eNewsletters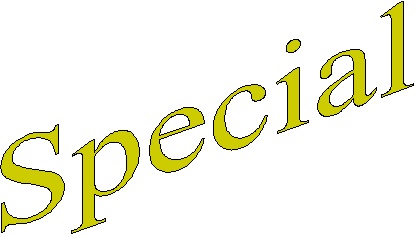 I have reduced the subscription rates for the monthly eNewsletters.

Due to the GFC (global financial crisis) times are tough for everyone, so I want to make my eNewsletters more affordable. So I have reduced the rates for a short while. Now is a good time to take advantage of this, while the special price reduction lasts. No risk - full money back guarantee.

My monthly eNewsletters were launched back in October 2008. Since then I have written no less than 25 separate articles of up to 4 pages each. These articles cover three distinct topics: Share Trading, Technical Analysis, and BullCharts.

Have a quick look at a recent Preview version, or download all of the first month's articles for free:- You can click here for more details.

Please feel free to send me feedback, or requests for specific topics.

The April edition is now being written, and will include lots of information on BullCharts Workspaces, and how to use them.
Workspace - what is it?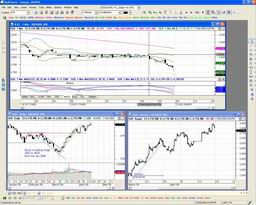 What is a BullCharts "Workspace"?

Let's say you are running BullCharts, and you have three price charts open. You might be a day trader who trades Index CFDs, and you are looking at a 1- minute chart of the XJO index (ie. the S&P/ASX 200), and an hourly chart, and a daily chart. Or you might be a longer term trader/investor, and viewing a daily, a weekly and a monthly chart for a specific stock.

This might look something like the tiny sample screen shot shown here. If you click on the picture, a larger image will display for you.

While we are looking at that chart, if you are interested in the detail, you might notice that there are various lines and text items on each of the three charts. In this situation I have turned the IntelliCharts feature on, and I have ticked the option to "Save different IntelliCharts for each time period". There are more details about IntelliCharts in the Tip Sheet #2 (see the Tip Sheet archive), and also in Brainy's monthly eNewsletter article number BC-06-100 published in February this year (see page 6 of the preview file here).

Now, exactly what is a Workspace? It is the information that describes the way the BullCharts screen looks, and which price charts are displayed. In the sample here, it is the three price charts, laid out the way they are, including the displayed security and the details on the charts. All of the information that describes this is stored in a text file on your local computer.

You can "save" the current screen layout as a new Workspace. Then if you want to view the exact same combination of charts again at some future time, simply Open the Workspace.

You can have multiple Workspaces saved. And since BullCharts version 3.8 there is a special Workspace Manager tool to manage them.


Workspace - how to manage it?


Each BullCharts Workspace that you save is stored as a separate file on your computer's disk drive. Most of the time you won't need to know about this.

Each time you "Save Workspace", you create a new disk file, and you have to give that Workspace a name, which becomes the name of the disk file. You can use "My Computer" (Windows Explorer) to navigate to these files and delete or copy them. You can even attach them to an email message and send them to someone.

With a Workspace open, it is easy to quickly close all the price charts, using the "Close Workspace" menu option. Even without actually saving the workspace, if you have one or more price charts displayed, then this is actually a Workspace whether you have saved it or not, and you can close all price charts using the "Close Workspace" menu option.

Once you have multiple charts open, the Workspace Toolbar becomes active (see the screen shot above). A detailed description of the three toolbar buttons won't fit in this Tip Sheet; but will be included in the April edition of my Monthly eNewsletters.

With BullCharts version 3.8.x, there is now a Workspace Manager. See the next section below for a brief introduction.
Workspace Manager (3.8.x)

From BullCharts version 3.8.x there is now a Workspace Manager included to help you manage your Workspaces. It is included in the "Security Manager" function - the window panel that is normally displayed at the right-hand side of the BullCharts window. You can display/hide this using the F8 function key, or the appropriate Tools menu options.

If you undock the panel from the edge of the BullCharts screen and let it float, you can resize it to look something like in the sample screen shot here.

The Workspace Manager makes it easy to:
See a list of the saved Workspaces.
Open a Workspace from the displayed list.
Create a new Folder to help group similar Workspaces together (as in the sample screen shot above).
You can also easily do the following with the Workspaces:
Add a new.
Delete one.
Copy one.
More information about how to use the Workspace Manager will be in the April edition of my Monthly eNewsletter articles.

Good luck with your trading journey, and your increasing knowledge of the BullCharts software package.
More information

More details on some of the topics in these Weekly Tip Sheets are included in Brainy's Monthly eNewsletters that are available to subscribers (for a very modest amount). Feel free to click on the relevant link at right to view samples and more details.

These weekly Tip Sheets for BullCharts* users are intended to be short, quick grabs of information. They are not a replacement for the monthly detailed Brainy's eNewsletter articles, which cover these same topics but in much more detail. The eNewsletters articles also cover Technical Analysis and Share Trading topics.

Also see the BullCharts on-line help (in BullCharts, hit the F1 key), and the relevant User Guide Chapter for more details (this is supplied with the software and copied to your hard drive as a PDF file).

Note: Any screen shots shown in this newsletter are snapped from BullCharts version 3.8.

FEEDBACK? - I am very keen to receive feedback about these weekly BullCharts Tipsheets. Please feel free to email me with comments, or suggestions. Contact details are included below.

* - BullCharts is: "...an innovative charting and technical analysis system. It provides a feature rich and powerful set of tools with access to the latest strategies from local and overseas authors in analysing the dynamics of the stock market."
This TipSheet might look strange?

This TipSheet has been composed in HTML and distributed using an online service, and is intended to be viewed in HTML (ie. web language) format. Some parts might look a little strange, especially if you are viewing a basically text-only version. I am working on a text-only version.

We have also found that some web-mail clients (eg. Hotmail and Yahoo mail) can mess up some aspects.

Please feel free to send me feedback if anything looks strange.

Good luck with your trading.

Robert ("Brainy") Brain

Hands-on Trading Workshop
A fantastic 2-hour hands-on workshop session where you can really trade CFDs in the early evening on an overseas market.

Find out what it is really like to trade CFDs - using signals on a 1-minute price chart.

Been thinking about getting into share trading or CFDs, and not sure where to start?

In this hands-on workshop we will:
Open a demo account with a CFD broker;
Trade CFDs;
Trade an overseas market;
Trade in the early evening.
But not only that, you will learn about:
CFDs - what are they?
How to go short (ie. sell them without owning them).
How to read price charts.
Support and Resistance.
The Parabolic-SAR indicator.
How to use Trading Plans and Strategies to improve your trading success.
In a real trading room at TCT Australia in South Yarra. How to maximise profit and reduce risk in today's market environment.

Using "fantasy money" so you can really go for it - no holding back.

More details including information on how to register are on my web site. You can register at my secure outsourced OnLine Shop with credit card or PayPal, or print the registration form and send it in the mail (but if sending by mail, please ring me first to reserve a seat).

---

The workshop venue is the real trading room of TCT Australia - a company that specialises in providing training and mentoring to traders. Their best selling product is the Live Trader Program (LTP), which includes some theoretical online video training, and 5 days of hands-on realistic and mentored trading practise in their trading room (using a practise trading account with $100,000 of play money).

Feel free to contact me for further details about this program. Or talk with the TCT staff, and tell them you heard about the program from Robert Brain. If you are keen to do the LTP program; but the price might be a stumbling block, then call me and we can talk about the possibilities.