Dear Reader,
Welcome to the 20th edition of my BullCharts software Tip Sheets, focussing on tips and hints for BullCharts (the Australian charting software package).

I am sending this one to both the BullCharts users and my Toolbox Members for interest.

The BullCharts scanning feature (often just called BullScan) is both feature-rich, and simple to use. Many people can utilise it fairly easily; but it can take a while to understand all of it's useful features.

So in this Tip Sheet I cover off some useful aspects of BullScan, and answer the question: "I have done a scan, and I can see the Scan Results Table, complete with a few columns of information, but how can I save that table for use later?"

More specifically we look at the following items:
The columns in the Scan Results Table - how can I include more details?
How can I save the Scan Results Table as a Watchlist?
To do all this, I will use a realistic Case Study sample scenario.
---
Don't forget to visit the BullCharts section of my Share Market Toolbox web site for more useful information about BullCharts (my Toolbox is an arsenal of weapons to help you tackle the share market).

And the Tip Sheet Archive Section and the Index page for information about past Tip Sheets.
---
I am always happy to receive feedback and suggestions for these Tip Sheets (and my Toolbox web site). Or if anything in a Tip Sheet is not clear, please feel free to contact me to ask about it (by email or phone). Or maybe I have made a mistake, which I will be pleased to correct in the next Tip Sheet along with an acknowledgement for whoever spots it first.

Please feel free to send me feedback, or requests for additional topics for these Tip Sheets or the monthly eNewsletter articles.

Good luck with your trading.

Robert Brain (aka Brainy)
(Contact details below.)
---

Topics in this Tip Sheet edition:
BullCharts Tuition and Mentoring

Don't forget that help with BullCharts is available for you. You can participate in the Australian BullCharts User Group for free - even if you don't live in Melbourne. And you can have free access to the Yahoo Forum with miscellaneous useful files and messages. The group meets monthly in Oakleigh. More details are on the web here.

And Robert is available to help you as well - in the form of one-on-one tuition, either in person (at your place), or over the internet. The fees are very reasonable. More details are on this web page.
BullCharts Scan - CASE STUDY sample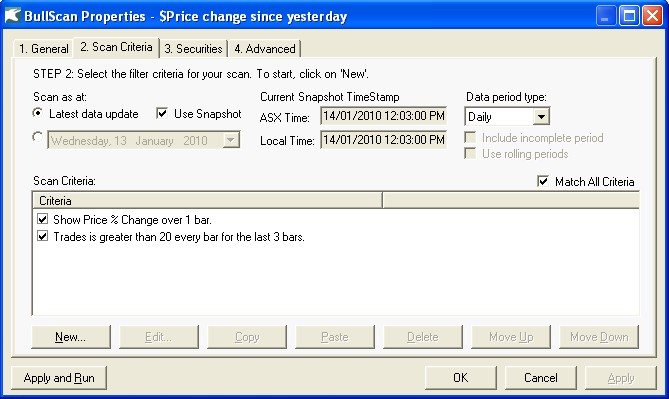 In this case study example, I want to see a list of my favourite stocks at lunchtime, and sort them by percentage change today.

To do this I will take a market Snapshot at lunchtime. And I want to run a BullCharts scan over my favourite watchlist to calculate the percentage change in share price since yesterday's close. And I want to sort the resulting list of stocks in order of percentage change with the largest change at the top, and the smallest at the bottom.

To do this we can create a new scan and include the following two scan criteria on the "2. Scan Criteria" tab (as in the screen shot above - click on it for a larger image):
Show the Price % Change over 1 bar.
Number of Trades is greater than 20 every bar in the last 3 bars - to weed out the thinly traded (illiquid) stocks.
The resulting Scan Criteria dialogue box can look like the accompanying screen shot. Also note the following in this scan:
The option Price % Change is available under the scan Category drop-down selection for "Is a price or chart field".
For any of the items you select in the top of the Scan Criteria box, it is possible to just "Show this value" in the Results Table.
The "Use Snapshot" check box is ticked, to use the Snapshot data instead of "today's close" prices.
Of course, on the "1. General" tab, it is useful to enter meaningful details for the following items because these will group your scans together to make them easier to find later:
Scan Name - in this example I called this scan "$Price change since yesterday". [TIP - Using the $ symbol at the start of the name will force this scan to appear at the top of the list of scans that are sorted into alphabetical sequence. This is because the dollar symbol gets sorted before all alphanumeric characters.]
Category
Author
Also note that the tab "4. Advanced" includes the following items:
"Sorting - Initially Sort by:";
Ascending or Descending;
plus some other options.
BullScan - the Scan Results Table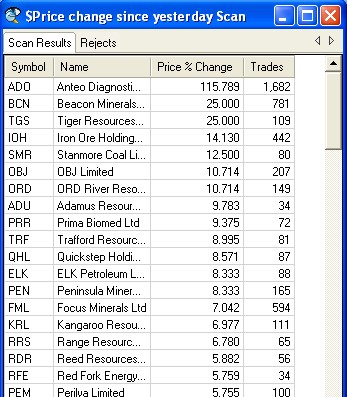 When I ran this scan at about midday today (14 January), across the stock list "All Securities", I ended up with a Scan Results Table as in the accompanying screen shot (click on it for a larger image), containing some 408 securities. Notice the very top title bar of this table contains the name of the scan - in this case "$Price change since yesterday".

If you want to include more columns in this table, it is a simple matter to just add them as extra Criteria in the Scan Definition. You can simply select "Show this value".

Don't forget that every time you run a scan, there is a watchlist saved automatically - it is called "Last Scan Results". You can rename this watchlist to anything else you like. And you can move it into a Watchlist folder.

The next time you run a scan, the existing "Last Scan Results" watchlist will be replaced with the results of the latest scan.

But, this watchlist is only a list of the securities. It does not include any of the numbers that were displayed in the Scan Results Table. As far as I know, there is no way to reproduce the scan results table without running the scan again. And if you run the scan on a different day (or using a different snapshot), then the results will potentially be rather different.
Saving the Scan Results Table details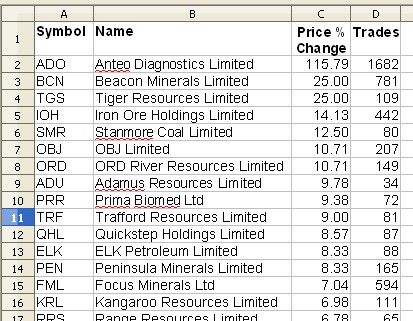 Now let's say you want to save the data from the Scan Results Table for some reason. There are two ways to do this: either (a) "Export" the data to a CSV file; or (b) "copy and paste" the data into a spreadsheet (or a text document).

The "Export" option is available as a drop-down menu option when you right-click some where on the Scan Results Table, or from the File menu options. A "CSV" file is a "Comma Separated Value" file. That is, it is a plain text file that can be easily imported into a spreadsheet program like Open Office Calc (or Microsoft Excel) [Have you noticed that I prefer Open Office, because it is cheaper than Microsoft Office, and it is better.]

How can we "Export" just a few lines of the Table and not all of them? See the comments in the next section below about "selecting" specific stocks in the list.

So, how can we save the data into a spreadsheet? (ie. option number (b) above.) Follow these steps:
Click once some where on the Scan Results Table to make sure it is the "active" window pane.
You now need to "select all" in this window. You can use the Ctrl key and the letter A, or the BullCharts menu option: Edit - Select All.
Now, copy all of the selected data into the Windows Clipboard as follows: Either use the Ctrl key and the letter C, or the BullCharts menu option: Edit - Copy.
Now open up your spreadsheet program (or whatever). In my case, I use Open Office Calc (not Microsoft Excel).
In your spreadsheet program, with a new spreadsheet open, simply "paste" the Clipboard contents - either with the Ctrl key and the letter V, or use the menu option: Edit - Paste.
And there you have it. The Scan Results Table is now in your spreadsheet program for you to save, and do other things with.
Saving the stock list as a Watchlist

If you want to save the list of stocks from your scan, you can rely on the "Last Scan Results" watchlist mentioned above, or there are a couple of other options:
Right-click some where on the Scan Results Table, and from the drop-down menu choose: "Create as Watchlist". This will create a new watchlist with the same name as your Scan. In this case "$Price change since yesterday". And it will contain ALL the stocks in the results table.
If your results table has a number of stocks, and you want to create a watchlist containing just some of the stocks, then just "select" the required stocks, and right-click and choose "Create as Watchlist". To "select" the required stocks, there are two options as in many Windows programs: (a) For a consecutive group of stocks, click once on the first one in the group, then hold down one Shift key on the keyboard and then click once on the last stock in the list; or (b) click once on the first desired stock, then hold down the Ctrl key, and while holding the Ctrl key down, just click on each desired stock to build up a number of "selected" stocks. This applies to the "Export" option as well.
Don't forget that you can re-sort the list of stocks in the Scan Result Table by clicking on a column heading (and the sorted column will display a small triangle in the column header).
How to add some stocks to an EXISTING watchlist? - This is another option in the drop-down menu. Just select one or more stocks, and choose "Add to Watchlist" from the right-click drop-down menu.
More information

More details on some of the topics in these Weekly Tip Sheets are included in Brainy's Monthly eNewsletters that are now bundled into Brainy's Share Market Toolbox Membership privileges. Feel free to click on the relevant link at right to view samples and more details.

These bi-weekly Tip Sheets for BullCharts* users are intended to be short, quick grabs of information. They are not a replacement for the monthly detailed Brainy's eNewsletter articles, which cover these same topics but in much more detail. The eNewsletters articles also cover Technical Analysis and Share Trading topics.

Also see the BullCharts on-line help (in BullCharts, hit the F1 key), and the relevant User Guide Chapter for more details (this is supplied with the software and copied to your hard drive as a PDF file).

Note: Any screen shots shown in this newsletter are snapped from BullCharts version 3.8.4.

FEEDBACK? - I am very keen to receive feedback about these weekly BullCharts Tipsheets. Please feel free to email me with comments, or suggestions or questions to be answered in a future Tip Sheet. Contact details are included below.

* - BullCharts is: "...an innovative charting and technical analysis system. It provides a feature rich and powerful set of tools with access to the latest strategies from local and overseas authors in analysing the dynamics of the stock market."
This TipSheet might look strange?

This TipSheet has been composed in HTML and distributed using an online service, and is intended to be viewed in HTML (ie. web language) format. Some parts might look a little strange, especially if you are viewing a basically text-only version. I am working on a text-only version.

We have also found that some web-mail clients (eg. Hotmail and Yahoo mail) can mess up some aspects.

Please feel free to send me feedback if anything looks strange.

Good luck with your trading.

Robert Brain (aka Brainy)

Seminars - March 2010
The next two scheduled seminars are:

They will be in March (just a few weeks away) - session details, dates, costs, venue, etc. are on my web site here.

At this stage there are no BullCharts training workshops planned (there does not seem to be enough interest). If you are interested in a topic, please feel free to contact me to discuss the options.

The regular venue I now use for most sessions is the Vermont South Community House. To enrol for any of these, you need to contact the VSCH directly by phone or email.

If you have any questions, please feel free to email or phone me (or catchup at a BullCharts User Group meeting, or an ATAA meeting - I am now the Victorian Chapter Vice-President, and a National ATAA Board Member).


---