Is this type of analysis useful?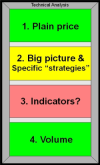 As a part of his regular investing and trading routine, Robert looks at the Aussie share market in a few different ways, and mostly ustilising the "4 Windows" analysis approach.
On a weekly basis, Robert views a handful of price charts of our major market index. These are previewed in the public high-level analysis mentioned above.
His analysis of Bull and Bear markets (also mentioned above) has led to a few conclusions. One of which is that we need to be both a little nimble, and rather sensible with our investing. In fact, Robert is a nimble short term investor.
If we can see a bear market developing, we should consider changing some, or all, of our stocks into cash to ride out the storm. This is protecting our capital from downside risk. If the market starts falling, who knows how far it will fall before recovering to new highs? Remember the real truth about blue chip shares which can be very dissapointing. But, of course, the action we take should be according to our own investing and trading strategy which needs to be written down somewhere.

The weekly analysis Robert uses here is so that we can be on the lookout for possible bear markets - to avoid them. And to be on the lookout for bull markets to exploit.
Here Robert studies the All Ordinaries (XAO) index - but why? Well, it is the top 500 stocks in the Aussie market. If the index is moving up, it means that a number of key stocks within the index are rising. And conversely, if the index is falling, then a number of key stocks in the index are falling.
If we watch the XAO index, and take note of what it is doing, it gives us a reasonable understanding of the market as a whole. Some people use this as a "filter". That is, if the analysis says we are in a falling market, then they do not buy into the market (but in fact a very nimble investor who knows that not all stocks fall in a falling market will still find opportunities, and use prudent risk management).
If a healthy bull market is under way, then it is much easier to have profitable investments.
And, this type of analysis can be applied to individual company price charts, not just the market index.
Testimonials
See the
testimonials
to read what people have to say
about Robert's Share Market Analysis materials.
---
Stay up to date
Robert is happy to keep you informed of new information
as it becomes available, and as updates are made here.
So consider registering to receive updated news and information.


---
Disclaimer
Robert is not qualified to provide financial advice, and does not hold a Financial Services License. Any charts and comments here are purely personal observations of the market. They are of a general nature, and for general education only.
There is no advice. It is recommended that you do NOT make any investment decisions based on any of the information here.