Introduction
We know that market corrections and bear markets come around fairly frequently - at least once every 3 years - and their effects can last for many months or even years. Not convinced about that for starters? See the details about market corrections and bear markets.
"When the market falls, I hold onto my stocks for the dividends.
I don't care how far my stocks fall in value." - The unfortunate view of many investors.
Unfortunately they can be throwing money away.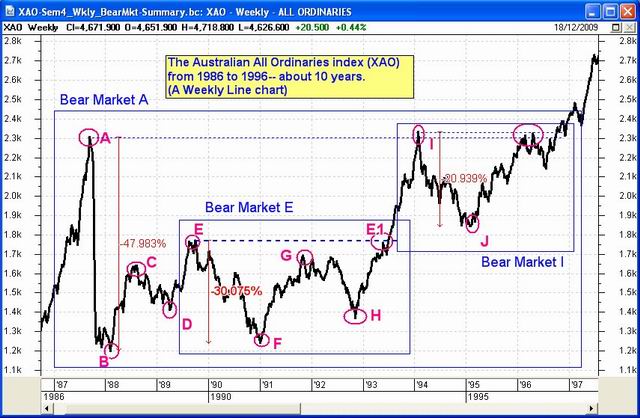 Don't forget that between 1986 and 2013 there were a number of bear markets (a fall of at least 20 percent), but there were two in particular that were very severe, where the market index did not make new and sustained highs for a number of years (in the case of the 1987 crash it was more than 9 years - see the chart at right, and click on it for a larger version).
Not only that, the statistics show that a bear market or a correction comes around at least every three years. If only we can spot these early and avoid them - and we can! Despite what the industry experts tell us, we can "time the market".
So, if we sense that a bear market is unfolding, should we hold on to our stocks because of the dividends? Or should we opportunistically sell the stocks that come under pressure, and do something more useful with the cash?
In this study, opportunistic selling of stocks did protect the capital.
One of the two alternatives in this study suggests that holding on to the stocks, and taking the dividends, can result in a long-term destruction of capital. While selling using a sensible exit strategy can result in both protecting the capital, and reaping further capital gains utilising alternative investment options.
Executive summary
The findings from this study are summarised in the following table, with further discussion included below. Notice that after a 6 year period, the buy-and-hold investor realised a total return on their investment (capital plus dividend) of a measly 1.2 percent, including more than $21,000 in dividend income. On the other hand, the strategic seller realised a total return of 20 percent.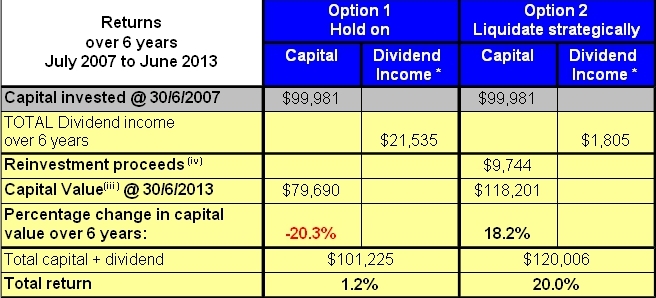 Table 1 - Overall results - the returns over 6 years for the two options.
Conclusion:

Based on this study, the investor would have been almost 19 percent better off by liquidating a shareholding utilising a strategic exit strategy.

The study - Overview
We did a study in late 2010, based on the three year period from July 2007 to June 2010, and included the results in a presentation "Blue Chip Price Charts - Unlocking the Secrets" delivered to a number of groups. This study constructed a representative $100,000 portfolio of ten blue chip stocks for the 3-year period July 2007 to June 2010. In July 2013 the results were then updated for a further three year period until June 2013. A list of the stocks and their performance are included below. Two alternative investment approaches were considered:
In Option 1, the capital value 6 years later was reduced by more than 20 percent. Dividend proceeds totalled more than $21,000 as shown in the table above. The capital loss over the period was 20 percent, but the total simple return of capital plus dividends over the 6 years was 1.2 percent (due to the dividend income).
In Option 2, all stocks were progressively sold in the months up to 31 December 2008. Dividends were collected whilst the stocks were held. On 1st January 2009 the cash was invested in the equivalent of a cash/bonds managed fund which was returning around 3 percent pa. The total return over the 6 years was 20 percent.
Conclusion
The overall conclusion from this study is that based on this selection of ten blue chip stocks, with an initial shareholding of about $10,000 worth of shares in each of the 10 stocks for a total portfolio value of $100,000, that a long term investor following the buy-and-hold strategy would have seen a reduction in capital value over at least 6 years. And after factoring in the dividend income the total return is only marginally better than the original starting position.
On the other hand, an investor utilising a strategic exit strategy could have protected the capital, and in fact seen a reasonable total return over the period.
Some more information about this study is included below, with important details only available for Share Market Toolbox members.