The case for bottom-up stock-picking
One key principle of stock selection using some basic aspects of the price chart is to avoid a stock whose share price is exhibiting a downtrend. The statistics show that once a downtrend is confirmed, then it is likely to continue until it is confirmed to have finished. So, why would we buy a stock while it's share price is falling? This is investing on a wish and a prayer, and just doesn't make any sense. Don't forget, a cheap stock might get cheaper, and cheaper, and might go the same way as: ABC Learning Centres, HIH, Allco Finance, Babcock and Brown, Timbercorp, Nylex, Great Southern and more.
By all means we could shorten our list of candidate stocks by running some sort of quality filter across the long list of possible stocks. For the Australian market of more than 2,000 equities, a quality filter might reduce the list to 400 or 500 stocks. And if we choose to invest only in liquid stocks so that we have a better chance of selling when we want to sell, then the list might come down to about 300 stocks.
The quality filter approach might look for stocks with a consistent return on equity, and a low debt to equity ratio, and perhaps a low PEG ratio indicating they are under-valued with good growth expected.
We could then use simple technical analysis to identify the rising stocks, regardless of the sector. And provided we use sensible risk and money management methods - including a sound Stop Loss approach - then our chance of success is increased.
This hybrid approach of using some key fundamental analysis criteria to identify quality stocks, and using technical analysis for timing, can be called funda-technical analysis. But how do we find the great stocks that are rising strongly? That's another story... (see more details on technical analysis)
Introduction to sector indexes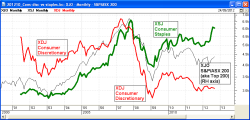 Most of the listed equities on the Australian market are allocated a GICS code (Global Industry Classification Standard), and all stocks in the S&P/ASX 200 index (XJO) are also listed in the relevant (GICS) sector index. See more details about the GICS standard.
Two of these key sector indexes are the Consumer Staples sector index (XSJ) and the Consumer Discretionary sector index (XDJ). The chart here shows these two indexes and the XJO over the period they have existed - from 2000 to now (click on the image for a larger version in a new window). Notice that after the market fell heavily in 2008, the XSJ (staples) recovered faster, and higher, than the rest of the top 200 index, and much better than the discretionary index (XDJ).
This means that by selecting stocks at the appropriate time from the XSJ index we do have a greater chance of better profitability. But note that this index currently has only 7 stocks. If we want to select from similar consumer staples stocks that are outside the top 200 (currently 54 stocks in the whole of the market), then we can search for those with a similar GICS code - that is, a GICS sector code of 30, or simply peruse the published list (this is easy with some stock selection and charting software).
Cyclical stocks and sectors
If we thought that a country's economy had passed through the bad times and had turned the corner, then we might want to bias our investing towards cyclical stocks - such as media or transport stocks for example. It is easy to find a list of these stocks with appropriate software or tools; but in the Australian market we don't have a sector index that exactly matches these market sectors so it is not easy to compare a stock to a desired sector index.
For instance, there are currently 26 transport-specific stocks listed on the Australian market. They are grouped with another 200 stocks in the Industrials GICS sector (GICS sector code 20), and some of them are bundled with 34 other stocks into the XNJ sector index (S&P/ASX 200 Industrials) which is easy to chart but perhaps not very useful in the current context.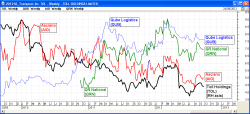 The chart here shows the weekly closing prices for some of our larger transport stocks since late 2009. Whilst there is some amount of correlation between these stocks at times, the only successful investing strategy in any of these over the prior three years would have been a shorter-term trend-trading approach, with a sensible Stop Loss.
To find investment candidates in our preferred cyclical market sectors, we might need to use a clever market scanning tool, or search for all stocks with a specific GICS sector and industry-group code (available via the ASX web site - menu option: Products > Indices).
Compare the averages
One of the six key tenets of Dow Theory explains that for a bull market to be under way the Dow Jones Industrial Average (DJIA) index and the Dow Jones Transport Average (DJTA) index both need to be moving together. The logic is that if the broader economy which is represented in the Industrials Average is performing well, then the Transport Average should also be performing indicating that goods are being shipped around the country. See more details about Dow Theory and comparing the averages.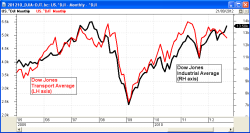 Notice in the chart here that these two indexes do move up and down together most of the time, but with a couple of exceptions. To spot the exceptions we can look at the peaks and troughs on the chart. The first was in 2008 when the DJIA led downwards while the DJTA made a new high, only to eventually follow suit. The second exception of note is in 2012 where the Transport Average has been unable to make new highs, while the Industrial Average is making new highs. On the chart we call this divergence, and it suggests one of two possible outcomes - either the factories are producing product which will soon result in increased transport activity and a lift in the Transport Average, or the Industrial Average will soon also fall.
Strong stocks in weak sectors?
We are often encouraged to look for strong stocks in strong sectors - a very sound approach that certainly increases the likelihood of investing success. The chances of any of these stocks performing poorly is very low, so our chance of success is increased - but there is a downside. When we ignore all the stocks in weak sectors, we are also ignoring any strong stocks in those weak sectors.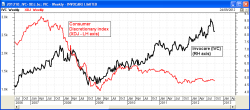 Invocare Limited (IVC) is a provider of funerals, burials and cremations, with a GICS sector code of 25 (Consumer Discretionary), and a GICS industry group code of 30 (Consumer Services). It is in the XJO index (today about 129th on the list) and it participates in the S&P/ASX 200 Consumer Discretionary index (XDJ).
The chart here shows the performance of Invocare versus the XDJ index and it clearly shows that IVC's share price fell from about $7 to $4.50 in 2008 during the GFC, but has then rallied to new all-time highs above $8 in the four years since. This is while the Consumer Discretionary index has languished.
This is a clear demonstration of the stocks that we can miss if we only focus on strong sectors.
Conclusion?
Investing with the economic cycle can be very much hit-and-miss, especially if we misjudge the time on the investment clock. Also, investing in strong stocks in strong sectors is a relatively low-risk approach with limitations. Searching for any rising stock in any market is higher risk, but can be rewarding.
Perhaps we might as well ignore the investment clock?
More information
For more details on this topic, see the list of references above right...