Technical Analysis - brief re-cap

The usefulness of techniical analysis is summarised in the statement at the top of this page - that price charts summarise the opinions (and emotions) of the market participants. Every chart tells a story, and it can pay to understand the stories in the price charts.
As a sub-topic of technical analysis, the huge variety of technical analysis indicators can help give us more clues about what's actually happening in the market, and they can give clear cut buy and sell signals to help with trading and investing decisions.
For more of an introduction into technical analysis, and why and how we can use it,
see the Technical Analysis web page.
Quick indicator sample - the Moving Average
The simplest chart indicator, with which many people might be familiar, is the Moving Average. A sample of this is shown in the sample chart below. This is a monthly candlestick chart of ACR (Acrux Ltd) showing a bottoming of the price in late 2008 and early 2009, followed by a rising trend through 2009-2011 (a rising trend, by definition, is a series of higher peaks and higher troughs - read more about trends). The blue curve on the sample chart below is the 14-month Simple Moving Average (SMA). See more about the humble Moving Average.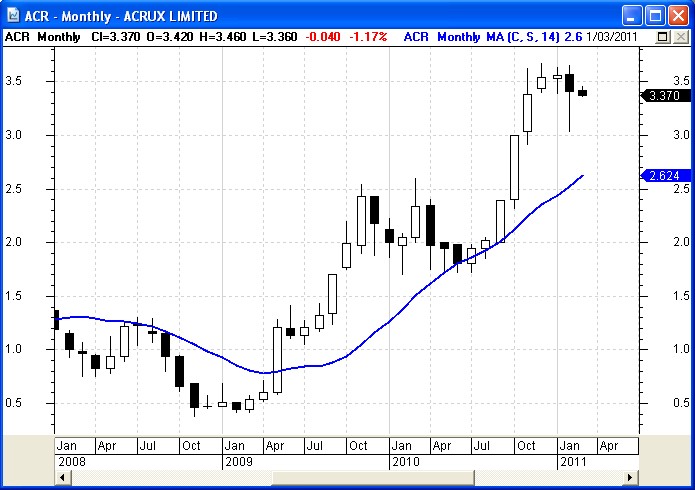 Why use an indicator? How can they be useful?
Firstly, it is worth re-stating that the price charts summarise the opinions of the market participants regarding so-called fair value for the share price. The price charts can tell us a story about what "Mister Market" has been thinking. It pays to understand the stories in the price charts - this is technical analysis. The more insight we can gain into the share price history, the more we can understand the opinions of the market participants, and the underlying balance of supply and demand of the shares. And this can help give us greater confidence about the more likely scenarios for future price movements.
Don't forget that we are not trying to predict future share prices. We are trying to anticipate the likely future movements so that when a price move happens, we won't be surprised by the move, and we might be able to take advantage of the move (even before it happens).
It can be very useful to be able to interpret a technical analysis indicator, for the following reasons:
An indicator can give a greater insight into what has been happening with the share price, and therefore a greater understanding of the opinions of the market participants. For example, a repeated pause in a trend at a particular price level, or an increasing tendency to move up faster or slower (or downwards). (eg. Momentum indicator).

An indicator can help to identify a price trend (uptrend or downtrend), and to quantify the strength or nature of the trend — is it strong or weak? is it likely to last or not? (eg. ADX.)

An indicator can help us understand the strength of a move in a particular direction, especially if the volume is factored into the indicator (eg. Money Flow).

An indicator can help us understand if the share price has moved further in one direction than it normally would under normal share trading activity (eg. rising momentum, or a volatility indicator like Bollinger Bands). Greater price movements can hint that someone knows something, or that there is a general swell of opinion that is tending to move the share price.

An indicator can help us understand if the share price is over-sold, and that a turn-around to the upside might be likely. And conversely, if the share price is over-bought and that a turn-around to the downside might be likely. (eg. RSI, Stochastic).

An indicator, or a combination of two indicators, can be used to help provide a buy or sell signal or trigger for a potential stock purchase, or for an exit. For example, two different moving averages (plotted together on the price chart) can provide signals.
Indicator categories
Technical analysis chart indicators tend to be categorised under four major headings: trend, volatility, momentum and volume. These different categories tend to give different perspectives into the share price movements by looking at the different characteristics of the price movements. Samples of some of the indicators in each of the four categories are indicated below.
If you want to use several indicators to assist you with a trading or investment decision, it is important to use indicators from each of these four groups. If you use two or three trend indicators, which might all give a similar signal, then you are missing out on the clues that indicators in the other groups could give. In some circumstances, you will find that indicators in each of these groups might conflict (ie. some might give a buy signal, while the others do not). This is for good reason. But when different indicator types concur, the signal might be more reliable.
One thing to watch with indicators is that some tend to be lagging indicators, while only some are leading indicators. The lagging indicators basically move after the price action, and confirm a price movement, whereas the leading indicators change before the price changes.
Where to from here

?

What next? How to go forward?

For those who can see the benefits of technical analysis indicators, and who want to learn more, there is a challenge — which ones to use? There are many indicators available, and for various reasons there are more indicators being devised from time to time. To help get started, the following are amongst the most popular indicators, and tend to be the easiest to understand.



More details
For more information on this topic, see:

Also see Wikipedia for another view of technical analysis.

Also a range of classic text books on the subject.
---
Before investing money in the markets, make sure to check with a qualified financial advisor to check if your planned investment is appropriate for you.
STOP! - Are you Share Market Ready?
Whatever you do,
beware of the sharks
in the ocean!

---