How can you get started?



Okay, so you might be a little interested in learning some more about the art of charting, or technical analysis. And you want to know how to move forward?

---
Understand the concept of trends



It is often said that "the trend is your friend".

Many successful investors and traders simply look for a confirmed uptrend, and a temporary weakness in price, then purchase to ride the trend until the trend has finished.

Robert has devised an easy way to understand the concept of trends - the "3Ways Rule (in 3Times)".

Also see this information on trends and trend-spotting.

---
Understand the notions of
Support and Resistance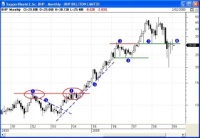 On a price chart, it often happens that you can draw an imaginary horizontal line across the chart and this line can represent either a ceiling for prices (ie. a resistance level), or a floor for prices (ie. a support level).

These support/resistance lines can be drawn at angles that are not just horizontal across the chart. Understanding how to to identify these levels, and how to correctly place these lines, can assist greatly in understanding where the future price action might move to.


---
Appreciate candlestick charts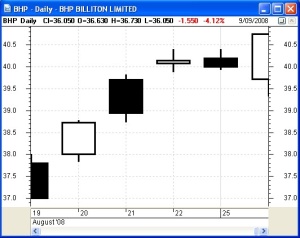 Gain an appreciation of the usefulness of candlestick price charts which show a lot more detail than the common line chart.

See a basic introduction to candles here.




---
Chart patterns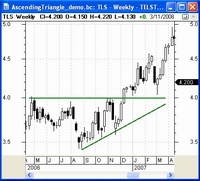 Understand that the way that markets behave, various patterns form on the price charts.

This happens as the market participants engage in the buying and selling, and in the tug of war as they "argue" about their perceived value of any particular company's shares.

See more about chart patterns.




---
Chart indicators



There are many chart indicators that can be placed on a price chart to help give some insight into the behaviour of the price. The most common of these is the Moving Average.



Indicators can be classified into three basic types - trend indicators, volatility indicators and momentum indicators.

See more details about chart indicators.

You can use simple free web-based charting tools to do this, or a proper charting software package (Robert prefers the Australian BullCharts software).

---
Choose a trend indicator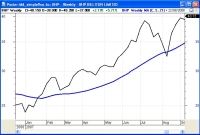 Choose one trend indicator, and learn what it is and how to use it.
Some trend indicators include:
Moving Average
MACD (Moving Average Convergence Divergence)
Parabolic-SAR (Parabolic Stop and Reverse)
ADX / DM (Averaged Directional Movement)
---
Choose a volatility indicator



Choose one volatility indicator, and learn what it is and how to use it. Some trend indicators include:
Bollinger Bands
ATR (Average true Range)
---
Choose a momentum indicator



Choose one momentum indicator, and learn what it is and how to use it. Some trend indicators include:

Momentum
Twiggs Money Flow
OBV (On Balance Volume)
RSI (Relative Strength Index)
Stochastic
See samples of the above indicators.
---
Understand the significance of Volume


The volume of a stock (or index) that is traded in any period is significant. That is, the actual number of shares that are bought/sold.

One of the tenets of Dow Theory summarises this as: "trends are confirmed in volume".

---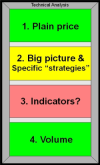 Getting started using the "4 Windows" approach


Robert recommends following the

4 Windows approach

to analyse the markets, a stock, or index. This is to help remind us of the breadth of technical analysis, and also to serve as a checklist to help us remember key considerations for stock (and index) analysis.

See the 4 Windows approach details...
---
SUMMARY


The above comments can help provide you with some guidance as to what to focus on in your studying of technical analysis.

However, successful investing or trading using technical analysis methods and techniques does involve a lot more than just this. Things like: appropriate emotional and psychological attitude; sound money management and risk management techniques; sound investment or trading plan and strategy; and back-testing and/or paper-trading.

Good luck on your journey learning more about the art of technical analysis.

---
CAUTION!!


We have to include a word of caution here.
Technical Analysis is not 100% successful, nor 100% guaranteed.
BUT! It will give you an edge in the market, and it is much better than not using it.


60-minute Introduction Video
If you have not yet seen this 60-minute Introduction to T.A. video,
it is well worth viewing to help crystallise the ideas mentioned above.
Watch a 60-minute "Introduction to Technical Analysis" video on YouTube:


.

Technical Analysis - a definition

"The interpretation of past share prices on
share price charts to try to gauge
likely future price action."


---
Robert's eBook (PDF) Articles



Robert has written a large number of eBook (PDF) Articles on Technical Analysis and other topics. Below is a list of the relevant Articles relating to the topics suggested at left.

Note that the full Articles are available to Robert's Toolbox Members (and Premium Members). Non-Members can view the Page-1 of each Article.


---
Price chart concepts and basics
Note: In the links below, the
green background links
are free, and the
blue background links
are
in the Members Area of the Toolbox.
---
Trends

---
Support and Resistance

---
Chart indicators

---
Dow Theory

---
Money and Risk Management

---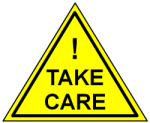 Beware the sharks in the ocean!